Professional Leftover Leather Shredding Machine
XINHANG

shandong ,China

20-30 days after payment

1000 pcs
This fiber pulverizer is mainly used to cut and smash soft materials such as waste fabric, leather, bark, fiberglass and nylon. otton fiber shredder can be widely used in textile and garment industry, new energy industry, chemical and chemical industry and so on.The fiber pulverizer is used for crushing special fibers such as soft materials, fiber materials, brittle materials and tough materials. The feed port is fed with input belt, which can add strong magnetic separation, which improves the safety production coefficient and overcomes the shortcomings of the traditional pulverizer feeding directly, accidentally investing in metal blocks and seriously damaging the machine.
Silk fiber short cutting machine
Introduction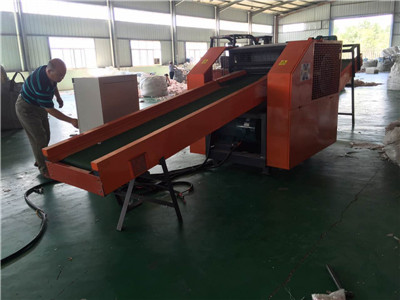 Qingzhou Xinhang Machinery Equipment Co., Ltd. independently develops SBJ series rotary torsion type fiber cutting machine (also known as rag machine, cloth crusher, short cutting machine, twisting machine, cutting machine, cutting machine) , wire machine, rag machine, rag machine, waste paper shredder, shredder, glass fiber cutting machine, garment trimming machine, fiber cutting machine, cutting machine, hemp fiber cutting machine , ramie machine, shredder machine, fiber cutting machine, shoe edge shredding machine, etc.).
Product features
1. This machine abolishes the traditional reciprocating blade, and applies the international lingxian oblique twisting type rolling knife and fixed knife cutting point moving shear design to achieve continuous high speed cutting.
2. The product design is advanced, the appearance is beautiful, the economy is practical, the control is sensitive, and the cutting is neat and thorough. And has obtained the national patent (appearance patent number: 200830163085.0 utility model patent number: 200820025018.7)
3. The product is made of a variety of high-quality special materials and processed through hundreds of processes.
4. Wide range of applications, can quickly cut all kinds of waste cloth head, cotton spinning waste yarn, waste clothing, cotton wool, chemical fiber, linen, leather, plastic film, paper, trademark, non-woven fabrics, etc. Strong magnetic selection, in order to prevent the damage of the hard iron metal), the size of the chopped material is uniform, and the length can be adjusted arbitrarily.
5. The whole machine is convenient to move, stable and reliable in operation, convenient in maintenance and high in production efficiency, which can solve the manual cutting of a large number of labors.
Main parameters
| | |
| --- | --- |
| Model | SBJ1200 |
| Power | 15 KW+3 KW+2.2 KW |
| Blade Length | 600 MM |
| Shear Size | 1-20 cm |
| Rotary Cutter | 4-8 pcs |
| Fixed Blade | 2 pcs |
| Output Tape | 3000*520 mm |
| Host size | 1550*1650*1550 |
| Weight | 1.7T |