Plastic Shredder Memory Foam Crushing Machine
XINHANG

shandong ,China

7 days

1000 pcs
Qingzhou Xinhang Machinery Equipment Co., Ltd. is an emerging technology private enterprise integrating research and development of fiber machinery new products, fiber cutting, crushing, breaking, opening and separating equipment design and manufacturing
.After years of unremitting efforts, the company has created a team of high-quality, capable workers, which strongly supports the company's commitment to customers.
The company has consistently adhered to the research and development strategy of technological progress and innovation. The development of fiber cutting machine has reached the domestic advanced level and obtained national patents. The 3200 fiber pulverizer independently researched and developed has filled the gap of low output in the fiber cutting and crushing industry. The company insists on expanding the international market, and its products are exported to Europe, and exported to Japan, South Korea, Vietnam and other neighboring countries.
Plastic shredder crushing machine

Introduction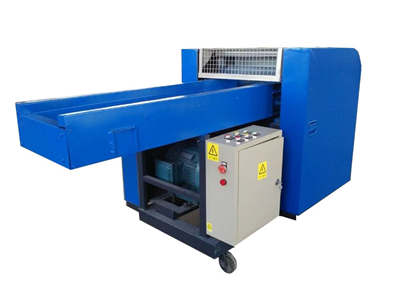 polypropylene PP, polyethylene PE, PES polyester, polystyrene PS,PES polyester, PVC, PET, HIPS, bags, big-bags, thermal blanket, nets, ropes, lines bottles, plastic greenhouse, agricultural plastic also can be process through this machine
PRODUCT FEATURES

According to the characteristics of the toughness of fiber materials, the rotary cutting and pulverizing equipment developed by the point-to-face shearing method to achieve rapid shearing and pulverization of materials.

It can not only effectively shear and pulverize materials with high toughness and light weight, but also can be applied to all fiber materials, so as to effectively cut off and crush the excess fiber materials.

The crushing degree of the fiber pulverizer can reach 1mm, and it can be adjusted according to different materials, and can be modified to meet the requirements of different materials.

The motor power is small, power saving, safe and efficient.






MAIN PEREMETER

| | |
| --- | --- |
| Model | SBJ800 |
| Power | 9 KW |
| Blade Length | 400 mm |
| Shear Size | 1-30 cm |
| Rotary Cutter | 4 pcs |
| Fixed Blade | 2 pcs |
| Input Tape | 1400*330 mm |
| Output Tape | 1400*330 mm |
| Host size | 2100*1000*1100 |
| Weight | 750 kg |