Non-woven Fabrics Fiber Shredding Machine
XINHANG

shandong ,China

7-10 days after payment

1000 pcs
The boring cutter is a blade that linearly moves in a pair of vertical plane directions. The feed guide roller of the synchronous feeding device feeds the cut tow into the cutting port, and the cutting length required for fixing the stopper is used to complete the cutting. Work, according to customer needs can be customized PLC touch screen version, can add safety sensing system, once the hand enters the dangerous area, you can automatically control the shutdown through induction.
Fibet shredding machine
Introduction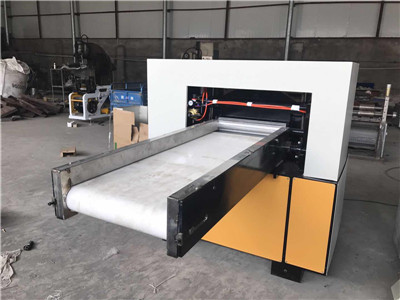 The tool material can be made of Feng Gang or hard alloy according to customer needs. The length of the tool is in the range of 140-1200mm, and the cutting range can be as short as 0.5mm.
Product Features

(1) The structure of the device is simple, and the adjustment range of the cutting length is wide (the shortest is even 0.1mm);
(2) The requirements for the cut tow are not high, and it is possible to process materials of various specifications, even various types of corners.
(3) PLC control, operation can be completed directly on the panel
(4) It adopts stainless steel cylinder pressure material and has good stability.
(5) Increase the human body safety sensing system, and once the hand enters the dangerous area, it can automatically stop the control through induction.
Main Parameter
| | |
| --- | --- |
| Model | XH600 |
| Power | 6.6 kw |
| Moving knife length | 600 mm |
| Tool raises height | 100 mm |
| Shear length range | 1-100 mm |
| Input belt length | 1350*550 mm |
| Machine dimensions | 1800*1400*1500 mm |