Good Quality Sponge Shredding Machine
XINHANG

shandong ,China

20-30 days after payment

1000 pcs
There are two types of sponge pulverizers, one can cut the whole sponge into strips, the other can cut the sponge into irregularly shaped blocks, and the second adds a sieve mesh, which can pass through the size of the sieve hole. And the number of moving knives controls the size of the discharge.
According to the length of the tool, the sponge cutter is divided into five models. The longer the length of the tool, the larger the size of the machine and the larger the output.
SPONGE CUTTING AND SHREDDING MACHINE
INTRODUCTION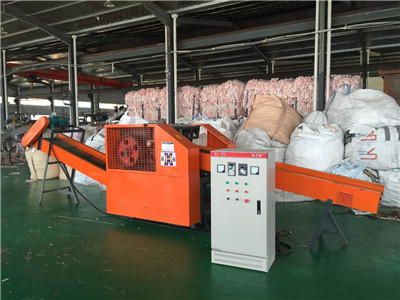 This fiber cutting machine has a variety of different models, which can be used for a wide range of raw materials. Fibers such as nylon, polyester and spandex can be processed. Textile products such as garment trim, cotton yarn, non-woven fabric, etc., plastic products such as plastics. Film, paper bags, bags, etc. can be further processed with this machine.
PRODUCT FEATURES
1. The input is generally in the form of a conveyor belt. The output can be selected according to the nature of the material.
2. Save at least half of the electricity and save energy compared to the average pulverizer
3. A wide range of raw materials are processed, and the pulverized materials can be reused to save energy.
4.The tool can be welded to a circular arc according to the shearing material, and the cutting is more neat and more durable.
MAIN PEREMETER
| | |
| --- | --- |
| Model | SBJ2400 |
| Blade Length | 1200 MM |
| Shear Size | 1-35 CM |
| Rotary Cutter | 2-8 PCS |
| Fixed Blade | 2 PCS |
| Input Tape | 3000*1100 MM |
| Output Tape | 3000*1100 MM |
| Weight | 3.5 T |