Cutter shredder for PET bottles
XinHang

China

10 days

250 sets /month
Machine for chopping or grinding, cutting and shredding of PET and other plastic materials such as polypropylene PP, polyethylene PE, PES polyester, polystyrene PS, EVA, PVC, HIPS, big-bags, thermal blanket, plastic greenhouse, plastic agriculture raffia nets, ropes …
Main feature
1.The machine adpot intemational lesding the knob and type rolling kinfe and the fixed knife which
suit some mobile shear design,to achieve continuous high-speed shear.Advanced product design,beautiful appearance,economic and practical ,control sensitive,shear agile thoroughly.
2.The product adpot various high quality special material,after hundreds of procedure precision processing and into.
3.The machine has broad scope of application,can quickly cut up all kinds of waste pieces,cotton waste yan ,cotton ,chemical fiber,waste clothing flax,leather,plastic,paper,trademark brand,non -woven fabrics and other variety of Angle materials,length arbitrary adjustable.
4.Convenient to move ,stable and reliable,easy maintenance,high production efficiency,can
solve a lot of manual labor chop cut.
5. It not only can cut rags, cotton, jeans but also can cut rubber, leather waster and footwear. It has no extra tear parts except blades. The blades can use 1 year.
6. It can work 24 hours continuously.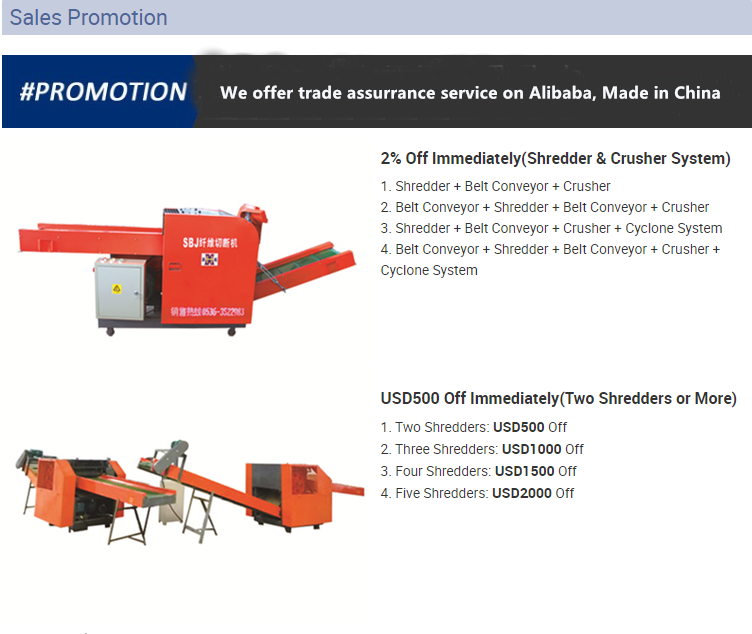 Model

Power

kw

Cutting Length

mm

Frequency

cuts/min

Capacity

kg/hour

Measurement

mm

SBJ500


3
5-300
>=288
300-500
3200*1000*1100
SBJ800B
5.5
5-400

>=432

500-800

3200*1000*1100

SBJ800F
7
1-80

>=432

20-500

3200*1000*1100

SBJ1200B

14.7
5-500

>=600

1500-2000
6000*1600*1900
SBJ1200F
18.7
1-80

>=1200

500-1000
6000*1600*1900
SBJ1600B
21.5
10-500

>=600

1500-3000
6000*1500*1600
SBJ1600F
25
1-80

>=600

600-1500
6000*1500*1600
SBJ2400B
29
10-600

>=600

2500-5000
6000*1600*1900
SBJ2400F
35
3-80

>=600

3500-5000
6000*1600*1900
SBJ3000
37.5
10-600

>=288

4000-8000
7000*1400*1500