Industrial One Shaft Cutter shredder
XinHang

China

10 days

250 sets /month
XINHANG Integrated One Rotor Shredder Machine Single Shaft Shredders, the mills and shredders for recycling in the textile and plastic industry and specially fabric, non-woven, plastic fiberglass and paper roll cutters in ribbons, blocks and twists. We provide all the solutions for industrial cutting and shredding.

XINHANG currently has a team of professionals in each of the areas and facilities fitted with the latest technologies that provide the customer with reliable products.

XINHANG has its own department of design and research consisting of a group of engineers who are responsible for designing different systems and that certify the quality of our creations. Our innovative machines meet the highest requirements of the International market.
Machines for cutting, shredding, harrowing, milling materials like texitile, plastics, bags, fiberglass, carbon, Kevlar, mineral fibers, foam, padding, natural fibiers, bottles, paper...This machine can be matched with bailing macihne, cyclone system, belt conveyer to satisfy customer's needs.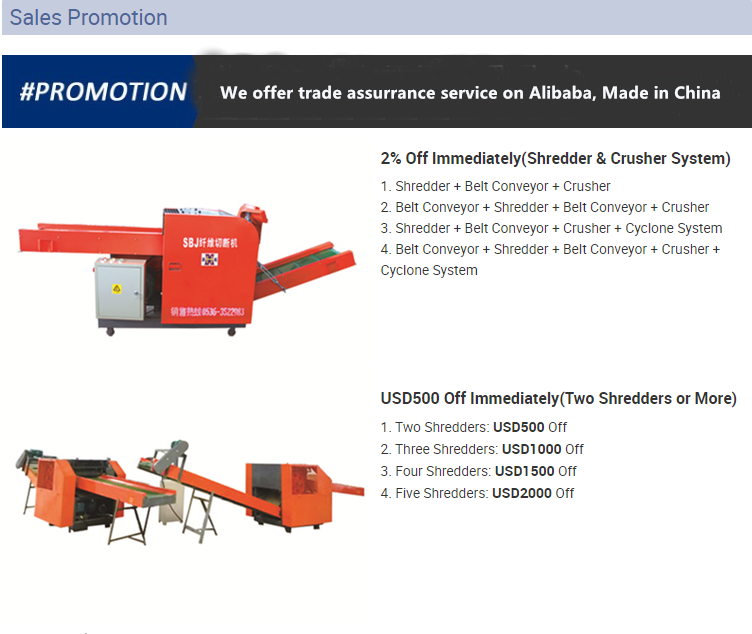 Model

Power

kw

Cutting Length

mm

Frequency

cuts/min

Capacity

kg/hour

Measurement

mm

SBJ500


3
5-300
>=288
300-500
3200*1000*1100
SBJ800B
5.5
5-400

>=432

500-800

3200*1000*1100

SBJ800F
7
1-80

>=432

20-500

3200*1000*1100

SBJ1200B

14.7
5-500

>=600

1500-2000
6000*1600*1900
SBJ1200F
18.7
1-80

>=1200

500-1000
6000*1600*1900
SBJ1600B
21.5
10-500

>=600

1500-3000
6000*1500*1600
SBJ1600F
25
1-80

>=600

600-1500
6000*1500*1600
SBJ2400B
29
10-600

>=600

2500-5000
6000*1600*1900
SBJ2400F
35
3-80

>=600

3500-5000
6000*1600*1900
SBJ3000
37.5
10-600

>=288

4000-8000
7000*1400*1500