Cardboard Shredder And Crusher Machine
XINHANG

shandong ,China

10-20 days after payment

1000 pcs
Cutting machine introduction:
Cutting machine (also known as slicer, paper cutting machine, warp and weft cutting machine, etc.) is a widely used cutting device. The application principle is to spread the large piece of continuous roll material. The purpose is to apply in the wood pulp board slicing industry. It is a continuous, uninterrupted slitting and cross-cutting work mode. The application field also includes medical intermediates, raw materials, special green fiber manufacturing, and ultra-high-strength concrete. , textile, printing, fine chemicals and other industries.
After years of careful research, Qingzhou Xinhang Machinery Equipment Co., Ltd. has carried out a number of practical technical upgrades based on the original cutting machine based on the cutting and crushing machine platform of various soft materials raw materials researched and developed by the company and the industry. The application technology of the cutting machine has reached a higher and more exquisite level, and better provides customers with more worry-free and more durable services.
Wood pulp board slicer
Introduction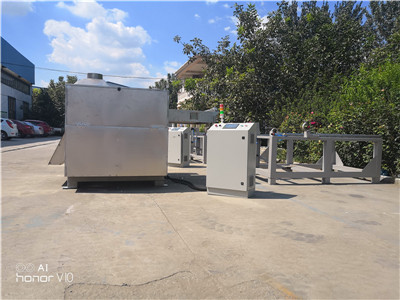 Main update technology range:
It is made of national standard 304 stainless steel material, so that the parts contacting the material are not sticky, ensuring the purity and pollution of the raw materials.

The frame made of super-national standard profile can permanently withstand the stress from the cross-cutting cutter and never deform.

The national patented rotary-cutting torsion knife independently developed by our company uses super-hard and super-wear-resistant high-speed steel (HSS) as the tool material. It does not collide when cutting at high speed, low noise, low working temperature, and Replace the cutter head arbitrarily.

The electrical control system adopts the current advanced PLC touch screen control, so that the cutting function can be another power control unit, whatever you want. An induction system is installed at the entrance to ensure that any part of the human body enters the work area and is sensitive to alarm shutdown.

The applied motors are low-energy explosion-proof motors produced by domestic famous brand manufacturers, ensuring continuous output of power system, safe and reliable.

Longitudinal shear system application blade is made of fixed high-strength wear-resistant steel, with excellent edge durability, and can be used for blade grinding without single-piece dismantling of the cutter shaft, reducing manual maintenance man-hours, and the spindle is treated with 40Cr thick material. Ensure high strength without bending and deformation.

During the design and manufacture process of this machine, pay special attention to the sharpness of the edge angle of various cutting tools, so that the shape of the cut pulp piece is regular and uniform, and the incision is neat, which is beneficial to improve the appearance quality of the pulp piece.
According to the different requirements of the output and the size of the pulp sheet, the application parameters of the cutting machine will also be different. The main parameters are as follows:
Cutting progress 10-40 m/min

Pulp paper cut width 300-1200 mm

Cutting size 5-30 mm sheet

Supporting power 5.5kw-15kw 380v 50HZ

Equipped with electrical equipment PLC and manual semi-automatic